Serene Airlines Inaugurates Direct Flight Route Connecting Pakistan and China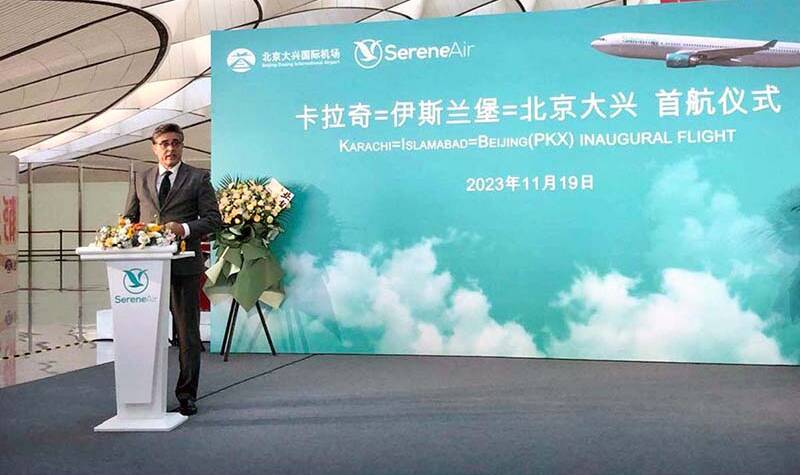 In a significant move to bolster diplomatic and economic ties, Pakistan's private airline, Serene Airlines, successfully launched its inaugural flight to Beijing, China. The historic journey, originating from Karachi with stops in Islamabad, culminated at Beijing's Daxing International Airport. The momentous occasion was marked by a welcoming ceremony attended by government officials, diplomats, and industry representatives from both nations.
Caretaker Adviser to the Prime Minister on Aviation, Air Marshal (Retd) Farhat Hussain Khan, highlighted the flight's importance in strengthening China-Pakistan relations. Emphasizing connectivity and tourism, he underscored the role this initiative plays in fostering closer ties between the two nations. Pakistan Ambassador to China, Khalil Hashmi, echoed this sentiment, emphasizing the potential for increased business, tourism, and cultural exchange.
The airline, set to operate twice a week, aims to provide seamless travel experiences while contributing to the growth of the tourism sector. A joint venture agreement with Joyu Group Air further enhances marketing and sales for the new route, showcasing a commitment to collaboration in the aviation sector.
The launch ceremony, hosted at Beijing Daxin Airport, symbolizes the growing friendship between Pakistan and China. Zeng Qiang, Head of Serene Air's Beijing representative office, expressed optimism about increased collaboration in the aviation sector. The recent General Sales Agent (GSA) joint venture agreement between Serene Air and Joyu Group Air is expected to play a pivotal role in promoting the newly established route. By leveraging the capabilities and resources of both companies, this collaboration aims to offer global travelers a diverse range of products and high-quality services. The initiative not only signifies a milestone in diplomatic relations but also holds the promise of fostering economic growth and cultural exchange between the two nations.