China Study Center holds Art Exhibition on Pak-China friendship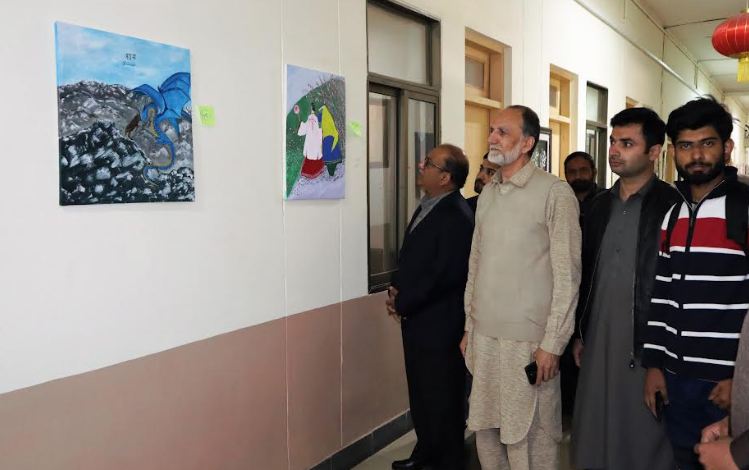 Peshawar  –  China Study Centre, University of Peshawar on Monday launched a three-day art exhibition, themed 'Pakistan–China All Weather Friendship,' to highlight the cordial relations between Pakistan and China.
It focuses on the China-Pakistan Economic Corridor (CPEC), the Belt and Road Initiative (BRI), and Chinese art and culture (buildings, monuments, landscapes, books, works of art, artifacts, traditions, language, calligraphy, culturally significant landscapes, and biodiversity).
The art exhibition attracted students, instructors, and artists from across Khyber Pakhtunkhwa. The organisers chose a total of 50 art pieces for the art competition.
In the presence of a large number of students, academics, academia, and instructors, the exhibition was inaugurated by Syed Ali Nawaz Gilani, secretary of Pakistan-China Friendship Association KP. Prof Dr Zahid Anwar, Pro-Vice-Chancellor and Director of the China Study Centre, UoP, Dr Fazlur- Rahman, Associate Professor, Department of Urban and Regional Planning, UoP, and Dr Nadir Ali Khan, Assistant Professor, UoP were among those in attendance.
Syed Ali Nawaz Gilani said that the University of Pakistan's China Study Centre is crucial in bringing Pakistan and China closer together. "Through these activities, people will learn more about China, its culture, history, and architecture, among other things," he said, praising the efforts of Prof Dr Zahid Anwar and his team in organising such events.
Prof Dr Zahid Anwar said the China Study Centre arranges several programmes centred on Pakistan- China relations.
He believed that by holding art competition, people would gain a better understanding of the Chinese language, culture, history, traditions, CPEC and BRI, and so on. The top ten artists in the competition will get cash prizes and certificates.
The award ceremony will take place on Wednesday at the China Study Centre's Conference Hall.