'Seeds in Space' project a milestone collaboration between China-Pakistan: Ahsan Iqbal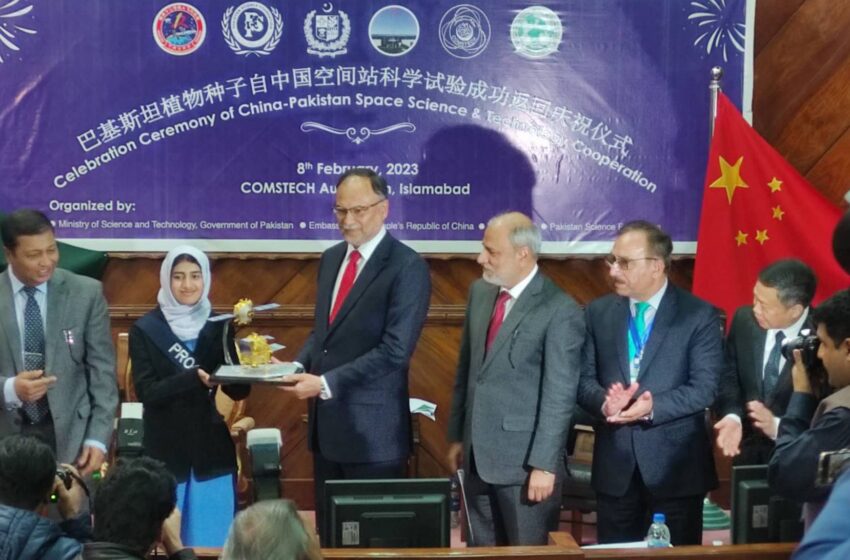 ISLAMABAD, Feb. 8 – "The Seeds in Space project is a milestone in collaborations between scientists of China and Pakistan. It provides a platform for researchers to share knowledge and resources, leading to economic growth", said Federal Minister for Planning, Development, and Special Initiatives Prof. Dr. Ahsan Iqbal.
The Planning Minister was addressing the ceremony held today by Pakistan's Ministry of Science and Technology with the support of the Chinese embassy at COMSTECH auditorium, Islamabad to celebrate the landmark of the China-Pakistan Space Science and Technology cooperation.
The minister termed the project a "cornerstone" in advancing space science, herbal medicine, and research.
Pang Chunxue, Charge d'Affaires of the Chinese Embassy in Pakistan, in her address, praised the scientists of both countries for their joint efforts in a successful scientific experiment.
She said that experiment represents a landmark in China-Pakistan S&T cooperation and will be recorded in the history of their friendship.
Speaking at the occasion, Pakistani scientist, project group lead Prof. Dr. M. Iqbal Choudhary, Coordinator General COMSTECH and Director ICCBS, said that this foundational step marks an important point in the continued growth and partnership between the two countries and will drive future cooperation in the field of space science.
Speaking to the audience, Federal Secretary Ghulam Muhammad Memon said that the Ministry of Science and Technology proudly announces the successful return of seeds sent to space by Pakistani and Chinese scientists in collaboration with the China Manned Space Agency.
"We appreciate their efforts and look forward to continued partnerships in the field of Science, Technology, and Innovation. The Ministry remains committed to supporting the growth and development of our scientists", he said.
Chairman Pakistan Science Foundation Prof. Dr. Shahid Baig and Federal Minister for Science and Technology Agha Hassan Baloch also addressed the audience on this occasion.
It was the first time that Pakistani medicinal seeds were sent to space, which would not only provide enormous opportunities for further research on other planets but also make plant cultivation on earth easier in harsh weather conditions caused by global warming.
The seeds sent to the space include Trigonella foenum-graecum ( Methi), Lawsonia inermis ( Mehndi), Moringa Olefera ( Sohanjna), Withania somnifera ( ashwagandha), Tribulus Terrestris ( Gokhroo), Gossypium arboretum (Mughal punta dana) and Caesalpinia bonducella ( Kuranjwa).