Pakistan receives Covid vaccines from China amid shortage reports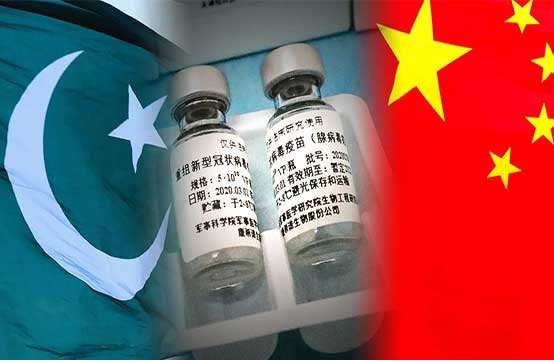 KARACHI, June 21: Pakistan received 1.55 million doses of a China-made coronavirus vaccine from the Iron Brother on Sunday amid reports of shortage of vaccines.
The National Command and Control Centre (NCOC) said the SinoVac was purchased by Pakistan and consignments were delivered on a plane of the Pakistan International Airlines to Islamabad and Karachi.
"Pakistan has received 1.55 million doses of a China-made coronavirus vaccine," NCOC announced.
It added: "China, as a time-tested friend of Pakistan, has taken special measures to ensure the uninterrupted supply of vaccine to Pakistan."
NCOC said another consignment of 2 million to 3 million doses would be delivered from China in the coming week. The provinces and other federating units will be provided with the vaccine according to their requirement, NCOC added.
Federal Minister for Planning and Asad Umar, who also heads NCOC, tweeted that more than 2.3 million doses were administered in the last week at a rate of 332,877 shots per day. "This is the highest so far in any week. The number will go up and next week will be a new record. Well done, Pakistan," he said.
Pakistan reported 1,050 new cases in the last 24 hours, taking the confirmed cases to 948,268, while 37 more people died related to the virus in this period, pushing the COVID-19 toll to 21,977, according to the Ministry of National Health Services. The positivity rate was 2.56 per cent and the number of active coronavirus patients was 33,972.
Pakistan is facing a shortage of Covid-19 vaccines, compelling provinces to suspend the vaccination process Sunday.
Sindh and Punjab closed down many vaccination centers as supply halted. However, officials say that an agreement has been reached between Pakistan and Pfizer-BioNTech for the procurement of 13 million doses of Covid-19 mRNA vaccine for the country and the first shipment is expected to reach Pakistan by the end of July 2021.
Pakistan is also in the final stages of procuring 10 million doses of Russian Sputnik V vaccine and its first shipment is likely to reach by the end of the current month or first week of July.
Special Assistant to Prime Minister on Health Dr Faisal Sultan said the pressure on the country's coronavirus vaccine stock would ease beginning next week. Dr Sultan said 12.9 million cumulative vaccine doses have so far been administered in the country – including both partial and fully vaccinated people- with 226,000 inoculations on June 18, 266,000 on June 17, and 416,000 on June 16.
Pakistan launched a nationwide vaccination drive, starting with older people and frontline healthcare workers, in March. The drive began with a focus on the oldest people in the community, generally over the age of 80, and worked its way down. Battling a third peak of the virus, the Health Department began the campaign with Chinese Sinopharm and CanSino jabs.