Pakistan's export to China up nearly 7pct in Jan – Aug 2022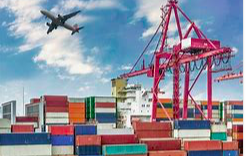 Pakistan's export to China crossed $2.40 billion in the first eight months of this year, up 6.23 percent year on year, shows the official data from the General Administration of Customs of the People's Republic of China (GACC).
According to data from GACC, overall from January to August 2022, China's imports & exports from Pakistan counted $ 18.41billion, up 7.28% year on year while in 2021 the same period it was $17.16 billion. In the month of August Pakistan's exports to China decreased 25.71 percent year-on-year, due to heavy monsoon caused flood and COVID-19 which destroyed many sectors including agriculture, infrastructure, and industry.
Dr. Mehmood Ul Hassan Khan, Executive Director, Center for South Asia & International Studies (CSAIS), Islamabad, told Gwadar Pro that China is Pakistan's largest trading partner besides being the second largest export destination and last year, especially despite the pandemic, the bilateral trade was growing by a big percentage.
"Unfortunately, due to deadly floods, 33 million people have been forced to leave their houses. 18,000 square kilometers' agriculture has been destroyed. Its massive destruction including that of the cotton crop would be disastrous for the country's exports to China. Moreover, the destruction of cashable crops and commodities has entangled the state, society, economy, and common people alike," he stated.
It seems that the devastation of floods will drastically reduce exports to China in the coming months due to flood. So far, seafood, pine nuts, sesamum seeds, and rice remain top export products to China.