China's Hainan Free Trade Port: Unlocking Opportunities for Asian Economies and Businesses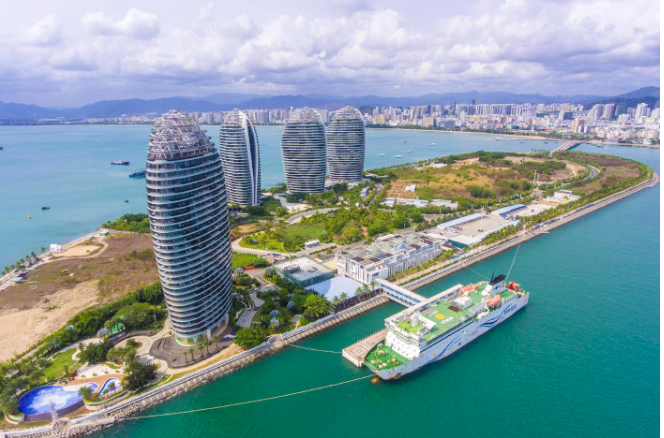 By Guan Xin
China's Hainan province has been in the limelight recently for hosting the third China International Consumer Products Expo, with the theme of "sharing open opportunities, co-creating a better life". This event has successfully brought together 3,300 boutique consumer brands from 65 countries and regions worldwide, making it a truly international affair. It presents a significant opportunity for businesses in Asia to explore and take advantage of.
Hainan's efforts in promoting trade and investment are notable, especially with its push to establish itself as a major international free trade port. Its strategic location, at the crossroads of major international shipping routes, makes it an ideal location for trade and commerce. To achieve this objective, the Chinese government has implemented a range of policies and measures to attract investment, facilitate trade and create a conducive business environment in the Hainan Free Trade Port.
One of the key benefits of the Hainan Free Trade Port is its preferential policies for foreign businesses. The HFTP offers a low-tax or zero-tax regime for a wide range of industries, including tourism, modern services, high-tech industries, and healthcare. Hainan Free Trade Port will start the preparatory work this year for achieving independent Customs operations by 2025, when it will provide global traders benefits such as zero tariffs and other preferential policies facilitating imports and exports. Additionally, the HFTP allows for greater foreign ownership in certain sectors, providing businesses with more flexibility and autonomy in their operations.
The Hainan Free Trade Port also aims to promote trade and investment facilitation. The HFTP has implemented measures to simplify customs clearance procedures, streamline regulatory processes, and reduce trade barriers, making it easier and more efficient for businesses to import and export goods. These efforts are expected to significantly reduce transaction costs and enhance the overall trade environment in the region.
Another significant advantage of the Hainan Free Trade Port is its focus on innovation and high-tech industries. The HFTP aims to become a hub for research and development, as well as a center for high-tech manufacturing and services. The HFTP offers various incentives and support measures for businesses engaged in research and development, intellectual property protection, and innovation-driven industries. This presents opportunities for businesses from other nations to collaborate with Chinese partners in cutting-edge technologies, research projects, and innovation-driven initiatives, which can result in mutual benefits and create new business opportunities.
Furthermore, the Hainan Free Trade Port has a strong emphasis on sustainable development and green industries. The HFTP is committed to promoting ecological protection, environmental conservation, and green development. The HFTP has implemented measures to encourage the development of green industries, such as renewable energy, green transportation, and eco-tourism. This presents opportunities for businesses from other nations that are engaged in green technologies and sustainable development to participate in and contribute to the HFTP's efforts in building a sustainable and environmentally friendly economy.
In addition, the Hainan Free Trade Port also presents a gateway for businesses to tap into the growing consumer market in China. Hainan province is a popular tourist destination, attracting millions of domestic and international tourists every year. The HFTP aims to develop Hainan as an international tourism and consumption center, with a focus on duty-free shopping, tourism, and cultural exchanges. This presents opportunities for businesses from other nations to cater to the growing consumer demand in China and tap into the vast market.
Overall, the Hainan province is a prime example of China's commitment to promoting global trade and investment. By creating a free trade port and hosting international events like the China International Consumer Products Expo, China is sending a clear message that it is open for business and keen to collaborate with other countries to foster greater economic growth and prosperity for all.