CPEC revival: Pakistan, China to accelerate work on ML-1, special economic zones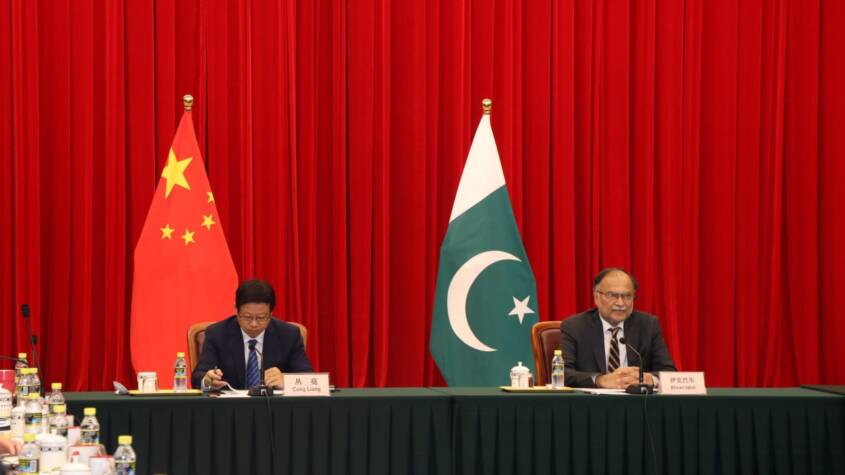 BEIJING (JULY 12) – Pakistan and China agreed to speed up work on executing the main line (ML-1) railway and special economic zones (SEZs) projects – another sign that the two countries are determined to revive the stalled CPEC.
According to a press release, an agreement on the subject was reached between Minister for Planning and Development Ahsan Iqbal and National Development and Reform Commission (NDRC) Chairman Zheng Shanjie during a meeting on Tuesday
Ahsan Iqbal, who is in China on a four-day visit, also co-chaired a special Joint Cooperation Committee (JCC) meeting with the NDRC vice chairman.
During the meeting, both the sides decided to focus on industrialization, agriculture, science and technology, and socioeconomic development while ensuring regular consultations between the two sides.
Last month, Pakistan and China signed a $4.8 billion memorandum of understanding (MoU) to build a 1,200-megawatt nuclear power plant.
The news comes as both Islamabad and Beijing are eager to expand CPEC albeit for different reasons – the former in desperate need of foreign investment and the latter eyeing expansion in its geopolitical influence.
But the other nations – from Saudi Arabia and the United Arab Emirates (UAE) to the Central Asian Republics – too are showing interest. For the landlocked countries of Central Asia, it's an opportunity to minimise their dependence on Russia and seek other avenues.
On the other hand, the two rich Gulf States are aiming to slash the share of petro carbons in their GDP by not only by attracting foreign investment in their countries but also by investing in others. Thus by diversifying their economies in this manner, they are also enhancing the international clout and standing.
So this convergence of interests is making the CPEC an attractive deal for everyone and hence we have seen the existing players – China and Pakistan – working on third-party participation in the venture.
It is a not a surprise given the fact that the reports about billions of dollars in investment from Saudi Arabia and the UAE are no more a secret.
That's why, Prime Minister Shehbaz Sharif said the government aimed to fetch investment of billions of dollars from the Gulf Cooperation Council (GCC) countries into the country's food and agriculture sector
Last week, the prime minister had even advised India to take advantage of the prospects provided by the CPEC that is based open the very idea of regional connectivity – the very basic rule for any regional blocs, be it political or economic in its nature. The European Union is the best example in this regard.
Reports suggest that the Ministry of Foreign Affairs has given its input for third-party participation in CPEC – which didn't have much progress and got much or less stalled since 2018 for a combination of internal and external reasons – after the Joint Working Group (JWG) on International Cooperation and Coordination drafted the modalities on this subject.