Pakistan's export to China up by nearly 7pc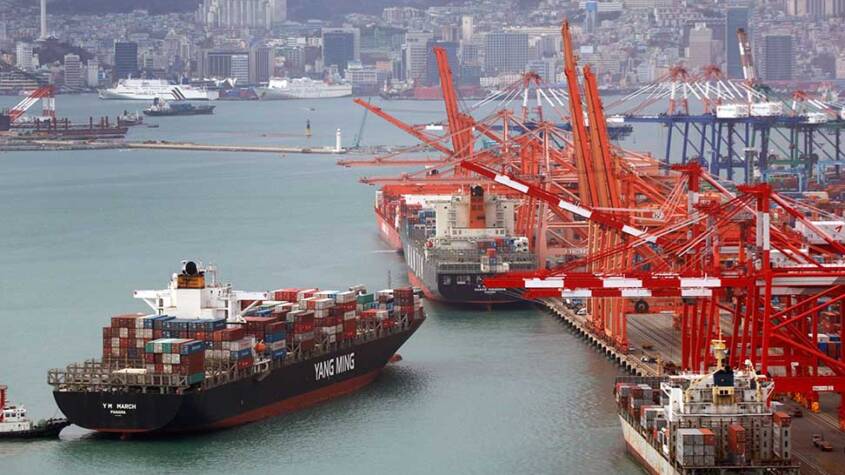 Pakistan's export to China crossed $2.40 billion in the first eight months of this year, up 6.23 percent year on year, Gwadar Pro reported on Thursday quoting the official data from the General
Administration of Customs of China.
According to data from GACC, overall from January to August 2022, China's imports & exports from Pakistan counted $ 18.41billion, up 7.28% year on year while in 2021 the same period it was $17.16 billion. In the month of August Pakistan's exports to China decreased 25.71 percent year-on-year, due to heavy monsoon caused flood and COVID-19 which destroyed many sectors including agriculture, infrastructure, and industry.
Dr. Mehmood Ul Hassan Khan, Executive Director, Center for South Asia & International Studies (CSAIS), Islamabad, told Gwadar Pro that China is Pakistan's largest trading partner besides being the second largest export destination and last year, especially despite the pandemic, the bilateral trade was growing by a big percentage.
"Unfortunately, due to deadly floods, 33 million people have been forced to leave their houses. 18,000 square kilometers' agriculture has been destroyed. Its massive destruction including that of the cotton crop would be disastrous for the country's exports to China.
Moreover, the destruction of cashable crops and commodities has entangled the state, society, economy, and common people alike," he stated.
It seems that the devastation of floods will drastically reduce exports to China in the coming months due to flood. So far, seafood, pine nuts, sesamum seeds, and rice remain top export products to China.
Pakistan's exports to China in 2021 remained at $3.589 billion and in 2022 the export volume can reach $4 billion and with the increase in food products; however, Pakistani exporters must follow the rules and regulations set by the Chinese authorities for imports.
In this regard, according to Gwadar Pro, the Trade Development Authority of Pakistan (TDAP) in collaboration with China Certification and Inspection Group (CCIG) Shanghai, and Tofflon Group Shanghai organized a webinar on Tuesday.
Besides officials from TDAP and CCIG, a large number of Pakistani exporters and experts participated in the webinar.
Pakistan has become a major source for the export of food products particularly rice, seafood, dried fruits, nuts, fruits, pink salt, and processed food.
The Chinese officials briefed the participants on key economic indicators of China. As per the National Bureau of Statistics China (NBSC), the volume of China's exports of goods is $3.36 trillion while the volume of China's imports of goods is $2.69 trillion.
Pakistan's exports to China are with the passage of time; the volume of exports in 2016 was $1.91 billion, in 2017 $1.83 billion, in 2018 $2.18 billion, in 2019 $1.81 billion, in 2020 $2.12 billion and in 2021 $3.589 billion.
"This year, Pakistan exports' volume can surge up to $4 billion and the space is available in food products," said one of the experts from CCIG.
According to the General Administration of Customs China's statistics, the value of Pakistan's food exports to China in 2021 was $840 million.
Of them, $609 million was vegetable products, $179 million was animal products while the value of prepared foodstuff was $52 million. Similarly, in 2021, the value of the export of nuts and dried food from Pakistan to China was $65 million.
In 2021, the exports of processed seafood from Pakistan to China 2021 were $8.4 million while the value of mangoes exported during the same year was $127 million.
China's imports of rice are $2.2 billion, seafood $ 13.8 billion, nuts and dried fruit $2.2 billion while sesamum seed $1.7 billion.
Pakistani exporters can get major shares in the imports of these products; however, they need to know the general characteristics of the Chinese Consumer Market.
For example, due to an increase in per capita income and consumer expenditure, China is close to becoming an upper-income country with increasingly health & fitness-conscious consumers.
They are spending money on quality and imported food while online buying is becoming an increasingly popular mode of purchase.
To get maximum space in China's market, Pakistan exporters should keep in compliance with import guidelines; they should develop a brand and build a website in the Chinese language, emphasize on health features of their products, prepare attractive and convenient packaging, make use of e-commerce platforms like Alibaba and JD, and promote their products through live-streaming and social media platforms.