Pakistani govt fully supports Chinese language learning: Education Minister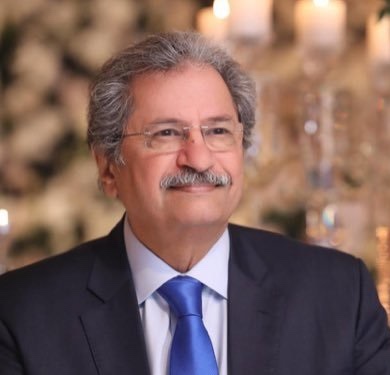 The government is fully supporting the learning of Chinese language by the Pakistanis as it believes 'our future is with China,' a close aide of Prime Minister Imran Khan said.
Federal Minister for Federal Education and Professional Training Shafqat Mahmood told The Daily CPEC that Chinese was fast becoming a popular language in Pakistan due to the mega China-Pakistan Economic Corridor (CPEC) plan.
"The government is fully supporting the process (of Chinese language learning). Several government-run universities are offering Chinese courses and there is a growing interest by the Pakistani students and professionals in the language," he said.
Mahmood said PM Imran Khan had repeatedly declared China as the future of Pakistan. "China has always stood with us and we want to cement this friendship further," he added.
The minister said Pakistan has also been learning from the experiences of China who in spite of huge youth population, different languages and multiple ethnic divisions.
Shafqat Mahmood said that Pakistan was facing myriad challenges in education sector and among them are; bringing the 2.5 million out of school children to schools, establishing a uniform education system and curriculum, ensuring quality education and working on the skill development. "I am here to implement the vision of Prime Minister Imran Khan regarding the uplift of education in Pakistan and translate that vision into a reality", he added. He acknowledged the support of China in guiding Pakistani authorities on skill and human development.
Confucius Institutes and classrooms have been established across Pakistan and there is an increasing demand for learning Mandarin especially among young, middle-class Pakistanis.
China also increasingly pulls as a leading destination for higher education. The Chinese government has substantially expanded scholarships for Pakistani students.
China-Pakistan media ties have been expanding too. China has made progress in developing relationships with local Pakistani media houses and journalists to communicate its message more effectively through traditional and social media.
Official figures indicate that as many as 5,000-7000 jobs are being created for Chinese language learners all over Pakistan.
Recently, Dr Zhang Daojian, Vice President Confucius Institute Islamabad, suggested establishing a department of area studies in Chinese and Pakistani universities. "We are in the era of language learning where there is a rapid growth of artificial intelligence and machine translation mechanism," he said.
He added: "The need for speakers and users of foreign language is increasing which cannot be fulfilled by computers and machine translating innovative tools. Face-to-face communication through language learning is an important trend for future education in Pakistan." Last month, a booklet containing select verses of Pakistani national poet Allama Muhammad Iqbal in the Chinese language was unveiled on in an event held at the Embassy of Pakistan, Beijing.
An increasing number of Pakistanis are also learning the Chinese language, hoping to land a job in one of the multi-billion-dollar CPEC projects.
Misbah Rasheed, a Chinese language instructor at the Islamabad-based National University of Modern Languages (NUML) said in the past few years – mainly after the announcement of the CPEC project in 2015 – there has been an unprecedented surge in the number of students wanting to learn Chinese. "Prior to CPEC we had some 200 students learning Chinese. Now we have over 2,000 in our different programs," he said.
Rasheed said the university had established a Chinese language department in the 1970s solely for the purpose of familiarizing Pakistani military officials with Chinese culture. Later, the department was opened to common citizens also.
As a result of an increasing demand for knowledge about China, many private institutions have also started offering Mandarin courses.
"We are offering diplomas for Chinese language programs. Our institute is working in collaboration with Chinese authorities. In the past few years, we have also offered scholarships to more than 1,000 students," Muhammad Haseeb, project manager at Islamabad-based Confucius Institute, said.
He added: "We have branches in the cities of Lahore, Karachi and Faisalabad. The project will help China and Pakistan overcome communication gap. It will also help our students to land jobs as interpreters and translators in various China-Pakistan joint projects."
The government's Technical Education and Vocational Training Authority (Tevta) has allotted 47 institutes in 23 districts of Punjab to teach the Chinese language. The Punjab University's Confucius Institute, National University of Modern Languages, the Government College University and the University of Central Punjab are also offering Mandarin courses. Tevta has been receiving thousands of applications for Chinese language course each year.
Shazia Ahmed, a bank officer, told The Daily CPEC that she was learning Chinese in Islambad and wanted to work in China in the coming years. "Chinese is a big international language and China is full of work. I plan to shift to China in the coming years. I am learning the language at a good pace," she said.
Mohammed Imran, a student, said he wanted to do his PhD from China. "I am doing a (Chinese) language course. Soon I hope to fly to China for my PhD degree. I am learning Chinese to be able to communicate easily when I land there (in China).